Leverage points for organic and sustainable food systems
Introduction
Despite the recent uptake of innovative production systems, food systems continue to move on unsustainable trajectories. This can be explained by many sustainability interventions addressing solely more obvious but less powerful areas of intervention rather than engaging with the root causes of unsustainability. Instead, FOODLEVERS focuses on identifying those leverage points at which interventions promise far more potential to further develop and scale-up existing innovative organic and sustainable food systems (FSs). It aims to promote higher resource-efficiency, highlight inefficiencies, specify the reasons for decision-making processes that led to the current configuration of FSs, and thus identify configurations that "work" and may be scaled up.
What: identify "deep" leverage points in organic and sustainable food systems
Why: contrary to the common practice of sustainability interventions FOODLEVERS addresses the key problems underlying unsustainability instead of focusing on weak leverage points
Where: Belgium, Finland, Germany, Italy, Poland, Romania, United Kingdom
Background
FOODLEVERS is grounded on the premise that attaining sustainable food production and consumption will require transition from the current linear FSs, to more circular systems that also re-connect producers and consumers. Such sustainability transitions are complex processes. In addition, many sustainability interventions focus on "highly tangible, but essentially weak, leverage points" (Abson et al. 2017, 30), thus they do not address key problems. Based on the framework of leverage points for sustainability interventions (Meadows 1999), Abson et al. (2017) propose a research agenda based on three realms of "deep leverage" to address in sustainability transitions, such as those required to transition towards resource-efficient, circular and zero-waste food systems:
"re-connect" people to nature to encourage sustainable behaviours
"re-structure" institutions and consider how institutional dynamics can create an enabling environment for sustainability
"re-think" how knowledge is created and used, shared and validated
Main project activities
To investigate potential leverage points in FSs, FOODLEVERS applies a multi-disciplinary systems and multi-actor approach to consider all dimensions and actors of food systems (FSs) as well as their interlinkages, synergies and trade-offs, rather than treating each unit of FSs separately. Therefore, this project analyses different case studies of organic and sustainable FSs in different geographical (rural, urban) and institutional (e.g. community supported agriculture) contexts throughout Europe and identifies best practice processes from multiple perspectives of resource efficiency: environment, economy, social and governance.
This holistic sustainability assessment of innovative examples of FSs consists of measuring their environmental impacts, resource efficiency and other sustainability aspects from farm to fork e.g. by "cradle-to-grave" life cycle analysis considering all steps from mining raw materials to waste-disposal. Additionally, it takes the role of all actors in the FSs into account by analysing their value chains from a socioeconomic perspective and assessing consumer behaviour and food choices. Based on the resulting identification of critical points, FOODLEVERS will then build scenarios and models (agent-based modelling, stakeholder decision modelling, qualitative scenario modelling) to reveal potential levers for sustainability and discuss future scenarios by drawing on the expertise and experience of FS actors. 
Expected results
As a result, the project will identify critical points in the innovative organic FSs studied including barriers, levers and points for intervention. The modelling of scenarios will allow to understand the potential of micro-level changes to achieve system-level change and transition towards sustainable and resilient FSs. Finally, "deep" leverage points will be formulated to re-connect, re-structure and re-think FSs.
Keywords
Agroforestry, organic farming, trade-offs, system approach, leverage points
Project consortium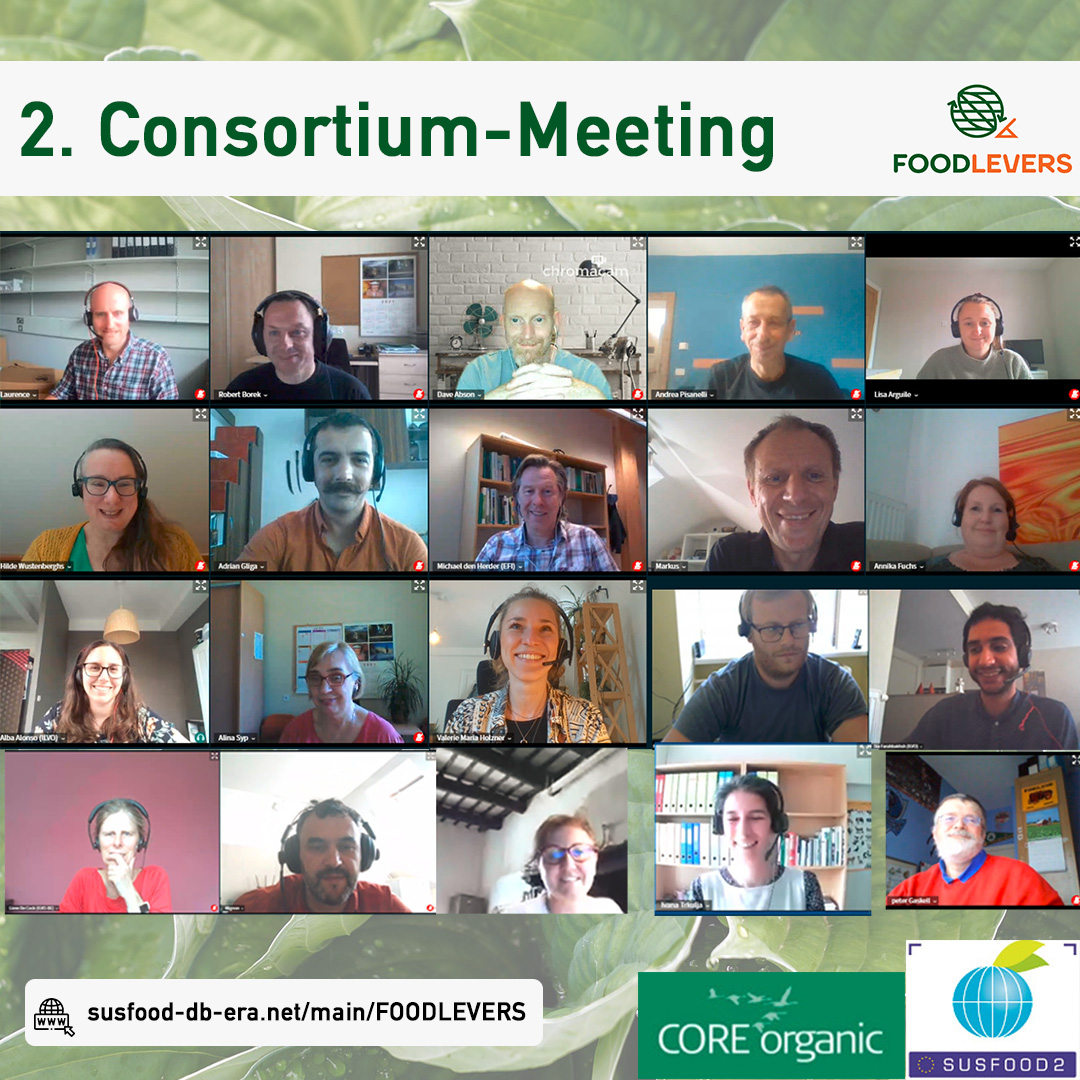 Coordinated by:
Valerie Holzner and Prof. Dr. Markus Hassler - Philipps-University of Marburg - Germany
Partners:
The Royal Agricultural University, (UK)
Institute of Research on Terrestrial Ecosystems, (IT)
Institute of Soil Science and Plant Cultivation - State Research Institute, (PL)
University of Agricultural Sciences and Veterinary Medicine Cluj-Napoca, (RO)
European Forest Institute, (FI)
The Progressive Farming Trust Organic Research Centre, (UK)
Flanders Research Institute for Agriculture, Fisheries and Food, (BE)
Funding:
German Federal Ministry of Food and Agriculture, Federal Office for Agriculture and Food, (DE)
Ministry of Agricultural, Food and Forestry Policies, (IT)
Finnish Ministry of Agriculture and Forestry, (FI)
National Centre for Research and Development, (PL)
Department of Agriculture and Fisheries, (BE)
Executive Agency for Higher Education, Research, Development and Innovation Funding, (RO)
Department for Environment, Food and Rural Affairs (UK)
More information
social media channels: 
Presentations & Publications