Fermentation-induced valorization of side stream blends from oilseed and dairy industry
Introduction
Sustainability in food supply chain is an up-to-date subject that covers, among others, the optimization of energy flow and the reduction of emissions, but also a complete-as-possible utilization of production side streams to reduce food losses as far as possible.
The project FERBLEND aims at exploring innovative solutions for the exploitation of cheese whey and press cakes from seed oil processing through targeted fermentation. The purpose of this joint research project is to explore solutions for creating liquid, semi-solid or solid platform products that may be used as ingredients in beverages, spreads or snack products. The main motivation of the consortium with partners from Denmark, Germany, Italy and Poland, and additional contributors from Spain and Turkey is to substantially increase the knowledge concerning processing and fermentation of blends of oilseed press cakes and whey, resulting in tailored foods.
Background
Food production chain sustainability which, among others, covers the reduction of losses and the exploration of innovative ways to increase resource efficiency, is of increasing importance. Especially small and medium-sized organic seed oil producers and dairy companies are challenged by adequate handling and downstream processing of their side streams. By combining two side streams, circularity of the processes will be strengthened, and the strategies developed in this project can be exploited by different actors in the food supply chain. The ambition of the project consortium is to develop a platform of innovative food matrices from dairy and oilseed processing side streams of organic origin to be used as is, or as semi-finished ingredients in target foods. The obtained platform products add value to unused materials from organic production and provide new ingredients for novel innovative food products. Fermentation is conceived as a strategic and sustainable process to improve the sensory and nutritional aspects.
Main project activities
This project aims at applying technologies for the development of new platform products by bringing together research and SMEs that provide samples and support for understanding the economic impact and infrastructure development. FERBLEND focuses on the combined valorisation of press cakes from oilseed processing and organic cheese whey. Sunflower is used as a prominent example as it is the oilseed with the second highest production volume in the European Union and gives a press cake that is generally considered as palatable. Processing steps developed for sunflower press cake will serve as the starting point for a transfer to press cakes from, e.g., pumpkin seed or flaxseed.
The innovative approach of FERBLEND is to combine the mentioned side streams which themselves show only limited benefits for human nutrition. By means of fermentation we intend to create platform products with enhanced techno-functionality and nutritional value for being used as such, or as semi-finished ingredients for other foods. The project objectives will be reached in four work packages for an in-depth analysis of the pre-treatment of side streams (WP1), the fermentation of blends of press cakes and whey (WP2), physical and chemical analysis of the fermented blends (WP3) and the further application of fermented platform products in different model foods (WP4).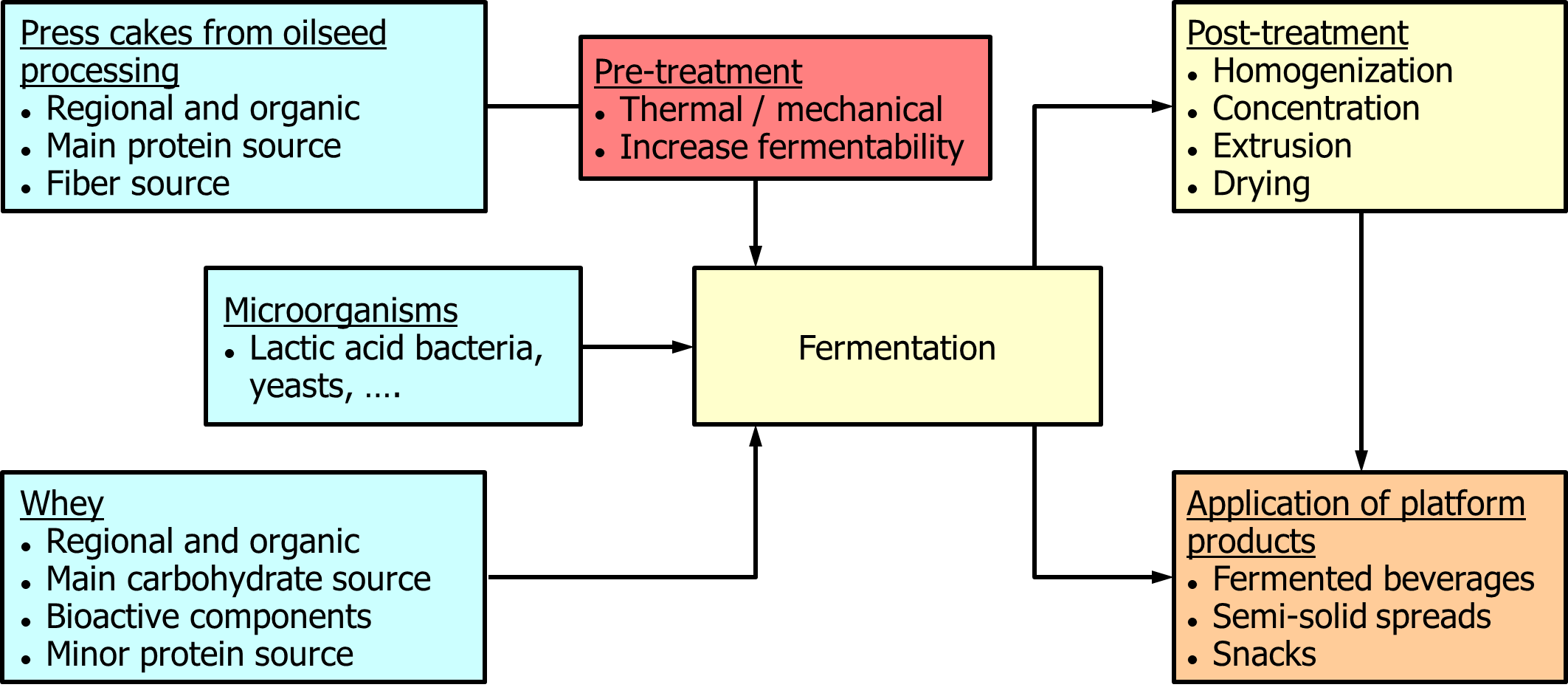 Expected results
We expect a substantial increase of knowledge concerning the processing and fermentation of blends of oilseed press cakes and whey resulting in tailored food products.
Keywords
Side streams, oilseed press cake, whey, fermentation, organic crops, genetic and environment diversity, nutritional and anti-nutritional factors, allergens
Project consortium
Coordinated by:
Harald Rohm - Technische Universität Dresden - Germany
Partners:
Università degli Studi di Milano, (IT)
Aarhus University, (DK)
Wroclaw University of Environmental and Life Sciences, (PL)
Associated partners:
Universitat Politécnica de Valéncia, (SP)
Istanbul S. Zaim University, (TR)
Funding institutions
BMEL (represented by BLE), (DE)
MIPAAFT, (IT)
DAFA, (DK)
NCBR, (PL)
More information
Project website: www.ferblend.webspace.tu-dresden.de
ResearchGate: https://www.researchgate.net/project/FERBLEND-Fermentation-induced-valorization-of-side-stream-blends-from-oilseed-and-dairy-industry 
Presentations